1. Initiation to creativity
This first phase of the project aimed to organize a first meeting with the Tuareg craftsmen involved in the program. It was also, through six workshops (colors, patterns, volume, material, discovery and free day), to deliver to 20 artisans, divided into two groups of 10, an introductory training in quality issues finishes and creativity. In addition, the challenge was, in view of the artistic residency, to conduct a detailed analysis of existing products and know-how held by the artisans involved, in order to estimate the productive and commercial potential. This analysis was to allow, on the basis of professional, artistic and relational criteria,
select 12 artisans among the 20 present to participate in the March-April residence.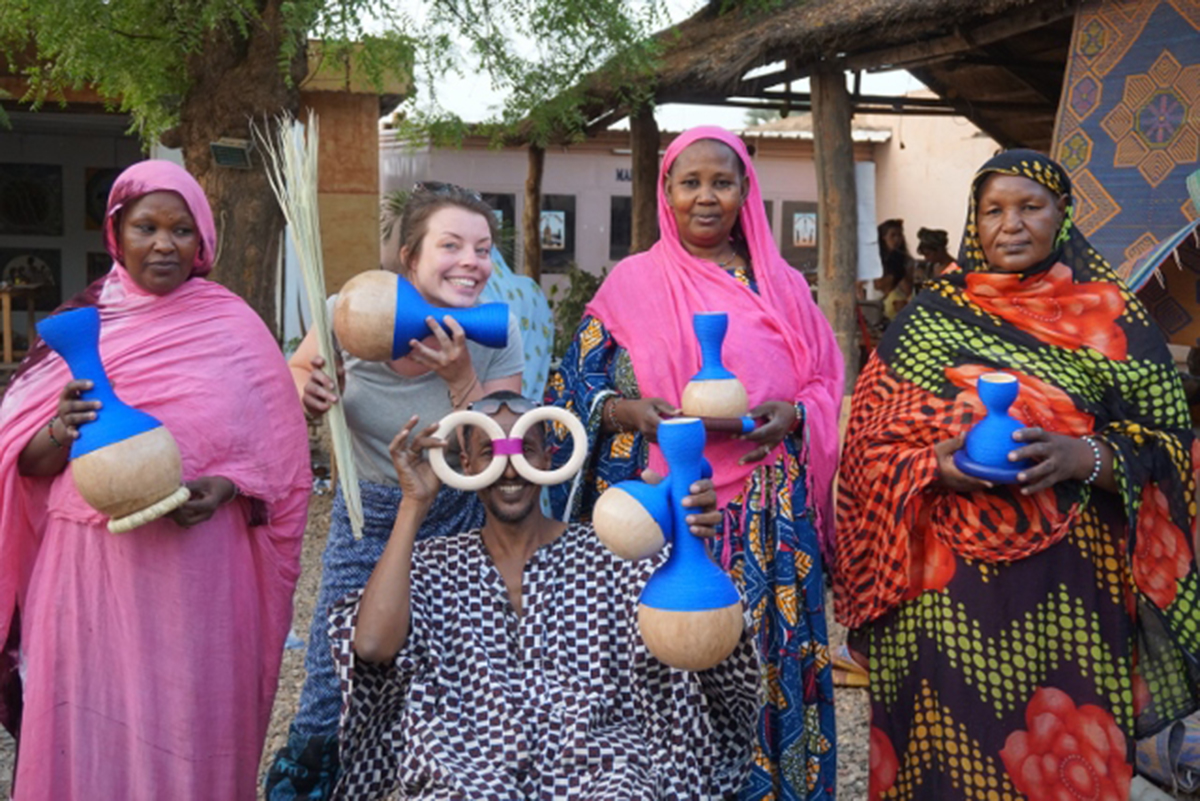 2. Artistic and solidary cocreation
« In a market saturated with offers where each product is more beautiful and more functional than its neighbor, function and aesthetics are still important but are no longer enough to justify the manufacture of new artifacts. The aesthetic sense and the object, in direct connection with the traceability of its origin and the values of its production system, are now primordial components. It is in this spirit that the six young designers in residence for seven weeks in Burkina Faso, in collaboration with seventeen Tuareg artisans of Malian origin, designed the first collection of Design for Peace products.« 
Pascal Gautrand, Fonder of MADE IN TOWN
3. Restitutions
The prototypes of the collection resulting from this collaboration between designers and craftsmen were then the subject of restitutions in the form of cultural exhibitions in Ouagadougou (French Institute) and Paris (Made in Town Gallery, Paris 3rd).
In addition to the exhibitions we organized, we were invited to present the project and the products of the collection during many events in 2016: The Days of Designers' Days Festival, held from 30 May to June 5 in Paris, World Refugee Day on June 20 at the Paris City Hall, EthiPop creators' market on July 2 and 3 at La Recyclerie (Paris 14th), Forum Convergences at the Palais Brongniart on September 5th and 6th in Paris, Fête de l'Humanité from September 9 to 11 at the Parc Georges-Valbon in La Coureneuve, photo exhibition at the Mundo-M space from October 20th to November 27th in Montreuil.

In the end, several hundred visitors to Ouagadougou and Paris showed their enthusiasm for the quality and originality of the objects presented.
4. Campagne de crowdfunding & Productions tests
Une campagne de financement participatif à destination du grand public, sur la plateforme Kisskissbankbank, sur une période de 50 jours du 26 mai au 14 juillet 2016, nous a permis de lancer de premières production-tests via des pré-commandes.
Cette campagne a atteint la somme de 16 420€, grâce à la participation de 189 contributeurs. Ce qui a engendré la production de 67 contreparties correspondant à la production de nos accessoires Design for Peace.
Nous avons organisé une soirée de restitution des contreparties à la Galerie Made in Town, en présence des contributeurs parisiens.
5. Training of master craftsmen
In order to permanently anchor the contributions of the creative residency in the camps and increase the production capacity of the project, a pedagogical device based on an introduction to marketing and a module for master craftsmen was set up. and animated by Jessica Oublié, then instructor at the Institut Français in Paris.
A triple objective was expected:

1) That the participants are able at the end of the training to transmit the knowledge acquired during the residency to allow the reproduction of the prototypes;

2) That they can share in clear terms skills intrinsic to the job and acquired by them in a non-formal way;

3) That participants organize and supervise the training of apprentices for whom they will be responsible for monitoring.
7. Mise en place d'un premier réseau de distributeurs
En participant aux deux salons Maison & Objet en janvier puis en septembre 2017, nous avons pu accroître notre visibilité en rencontrant une centaine de distributeurs nationaux et internationaux. Les produits Tiss & Tik et Design for Peace sont désormais distribués en France, en Suisse, en Espagne, en Allemagne, en Autriche, au Danemark, aux Etats-Unis et au Japon.
Les produits Design for Peace ont été intégré au programme MADE51 qui a pour vocation de soutenir les personnes dépacées de force, en valorisant leurs talents et savoir-faire artisanaux. Les accessoires Mode & Maison ont pu être aperçu sur le stand MADE51 à l'occasion du salon Ambiente à Francfort du 9 au 13 février 2018.
8. Quality
Improve the manufacturing process by creating connection tools (distribution of the order, transfer of products, quality control, final delivery, payment …)