Textile Centre of Excellence

1. Weaving module « Drawings on small looms »
The weavers benefiting from our program started their training course at the centre with a module dedicated to the drawings on small metal crafts (about 40 cm wide) with two pedals. The motifs are inspired by the Bwa Ba textile heritage, an ethnic group mainly represented in northwestern Burkina Faso, on the Malian border, known for the dexterity of its weavers, also griots. We have adapted these traditional motifs in order to transpose them to more modern equipment that is more adapted to female use.
The weavers currently master 4 motifs (dam-dam, striped square, Djibasso, grain of rice) declined in several colors.
The first beneficiaries, trained in 2014, became trainers and passed on their knowledge to new young women who have since joined the centre as well. Thirty or so women are now involved in the production of weaving on small trades.

2. Introductory and advanced program on weaving with wide-width looms
The large 4-pedal wooden looms offer considerable potential in terms of outlets, particularly in the decoration sector (upholstery, table and house linen). A program is currently in place to ensure that all weavers benefit from both small trades and more modern and efficient equipment.
10 women have already followed an introductory module that should continue soon with a module of deepening. They have become familiar with this craft of European type and understand the different stages of assembly, including threading and vamping. They were also initiated to the analysis and the reader of a fabric and the realization of its graphic representation.
First samplings were carried out in order to introduce, after training, new products such as plaids, stoles, tablecloths, bedspreads, etc.
3. Training « Mastering the dyeing of threads »
The yarn dyeing training is facilitated by a local organism, AFRIKOLOR, specialized in dyeing from guaranteed synthetic dyes without heavy metals. If women weavers already have notions of dyeing, this training allows to introduce in their practice the use of the balance and the use of adjuvants of better quality than those usually marketed on the markets.
By gaining better control of dosages and quantities, women are able to obtain more accurate and therefore reproducible color rendering, and to limit raw material costs. Finally, this allows them to reduce the health and environmental impact of this practice, by reducing the amounts of dyes and adjuvants – components necessary for fixing colors.
 4. Introduction to natural dyeing
In small groups, the weavers followed initiations to the techniques of natural dyeing by etching. They have assimilated the different stages of preparation: cleaning the yarns with castor oil, etching with alum and / or iron and then soaking the yarns in the baths of herbal nature, complexioned or local: cochineal, henna, bark of n'peco, ngalama. By successively dipping skeins in different baths of plants, the craftswomen were able to achieve color blends to expand the chromatic range obtained entirely from plants.
These colors are however particularly delicate, their control is more difficult. These dyes have therefore given rise only to small capsule collections. However, we hope to deepen their use thereafter to offer a range of products completely dyed from plants.
Contenu de la formation : découverte des plantes tinctoriales locales, utilisation des extraits de plantes, maîtrise du pré-mordançage des fibres cellulosiques, montage et entretien d'une cuve d'indigo organique, réalisation de nuanciers et d'échantillonnages sur des étoffes de coton
5. Creation of a sewing workshop :
After initially focusing on collaborations with insertion sewing workshops in Paris or small workshops in Ouagadougou, we more recently have created our first workshop near the Textile Centre. A dozen of young women were trained to participate in the creation of accessories of our collections. Those who participate in the production are now able to work from a pattern, to cut the fabric, to prepare the assembly, to control the finishes and ensure the proper maintenance of equipment. We are gradually being able to refocus the seams activities at the Textile Centre in order to envisage a fully integrated textile sector.
6. Discovery module « Creativity »
From fashion and decoration magazines, the weavers offered the entire group new color combinations. They then put into practice the choices that were unanimous.
From cut-out images and photos, they also created trend boards or « mood boards ».
The weavers are thus sensitized to the origin of the trends but also their sources and their modes of diffusion.
In the future, we want to integrate more and more creative proposals of the women of the workshop (weavers and seamstresses) in our future collections.
7. Literacy
In addition to technical training, women have the opportunity to take literacy courses, including learning about numeracy, reading and writing. They gain autonomy in their business activities but also in the management of their daily lives.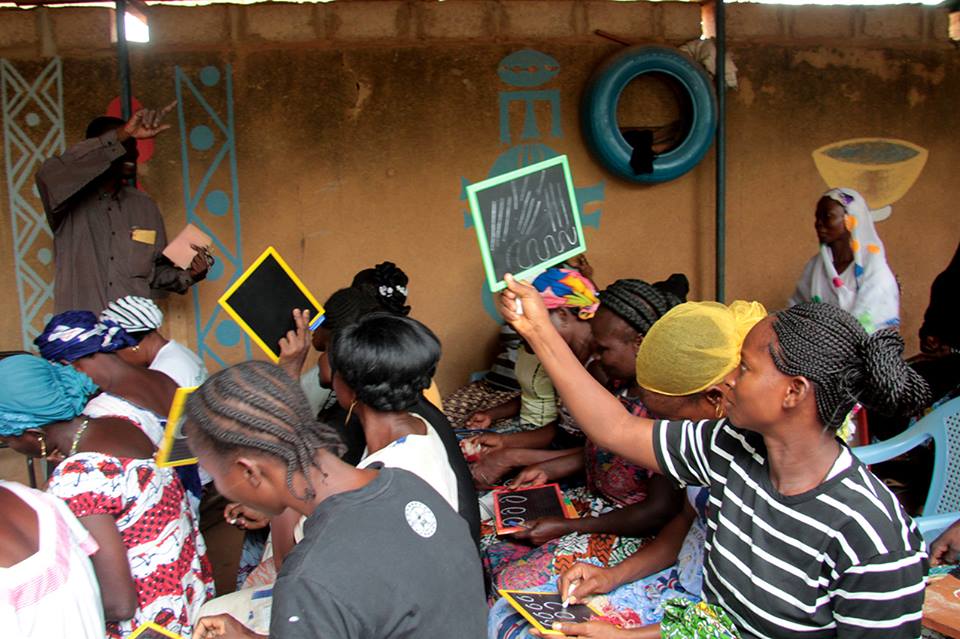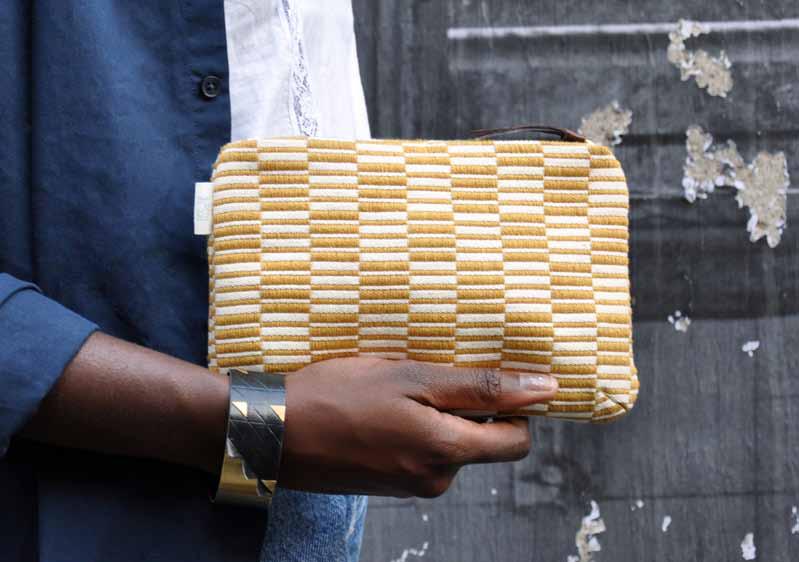 8. Fair Trade
The women who attended the training programs are directly involved in the production of the center and remunerated on a piecemeal basis at a price that is just above local practices and guaranteeing them a fair income.
The evolution and renewal of the range of products is designed and developed in consultation with women, with respect to their skills, to develop collections of contemporary textiles inspired by their ancestral heritage..